Gospelsongs und Spirituals - Lieder auf Basis religiöser Texte, mit Rhythmen, Melodien und Harmonien, die ihren tiefsten Ursprung in der Musik der afrikanischen Sklaven Nordamerikas haben -
das ist unser Programm seit dem Gründungsjahr.
Unser Programm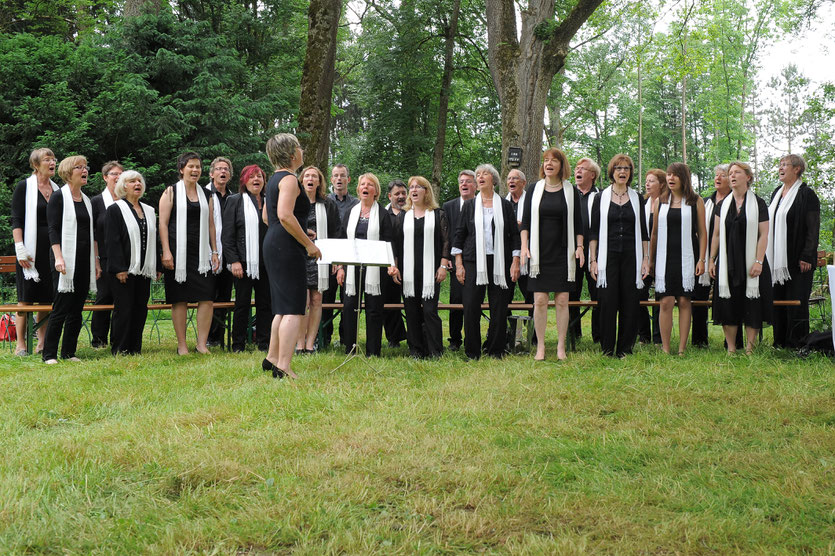 Wir singen live, unplugged und meistens in englischer Sprache. Ein Notenständer für unsere Chorleiterin ist unsere ganze technische Ausrüstung. Eine kleine Bühne oder ein Eckchen mit akzeptabler Akustik, schon können wir auftreten.           
Auch auf Ihrer Veranstaltung bilden wir gerne den musikalischen Rahmen. Ob Gottesdienst, Kurzauftritt oder komplette musikalische Abendgestaltung, mit uns ist vieles möglich. Nennen Sie uns Ihre Wünsche und wir werden uns bemühen, auf Sie einzugehen.
Hier eine Auswahl (ohne Weihnachtslieder) aus unserem bunten Repertoire:
A

I

Amazing Grace (John Newton)

I swear (Gary Backer, Frank Meyers, Arr. Carl Stroman)

A Little Bit of Heaven (Sonja Isaacs)

In Times Like These (Mavis Staples)

Ain't Gonna Let Nobody Turn Me 'Round (Freedom Song)

In Just a Little While (New Journey)

 

I'll tell it wherever I go (Thomas A. Dorsey)

B

 

Be With Me, Lord (Tom Booth)

L

Bless (J.M. Benoit)

Lead Me, Guide Me (Traditional, Elvis)

 

Let Us Break Bread Together (Traditional Spiritual)

C

Lonesome Road (N. Shilkret, Gene Austin)

 

Losing You (Randy Newman)

Creep Along Moses (Mavis Staples)

 

 

O

D

Oh Happy Day (E.F. Rumbault, P. Doddridge)

Deep River of Love (Ruthild Wilson, Helmut Jost)

On Eagles' Wings (Michael Joncas)

Don't Knock (Mavis Staples)

One Prayer Away (Barbara Scheer)

 

 

E

P

Every Night When the Sun Goes In                                                                            (African-American Folk song)

Parkplatzregen (Oliver Gies, Roland Pflügler)

 

 

F

S

Faith, Hope and Love (Rick Ashley)

Sch-bum /'s Leb'n is wiar a Traum (J.Keyes, C. Feaster, J. Edwards, Floyd

Fill My Cup (Michaela Lynes)

McRae)

 

 

G

T

Go Down Moses (Traditional)

The Battle Hymn of the Republic (Glory! Glory! Hallelujah!) (Julia Ward HoweWilliam Steffe)

God Has Smiled On Me (Traditional)

There's a Garden On the Other Side (Alexander Bally, Barbara Scheer)

Going To The Chapel (J. Berry P. Spector, E. Greenwich,)

This is the Lord's Doing (Tore W. Aas)

 

 

H

V

Hallelujah ( Leonard Cohen)

Voices of Joy (Barbara Scheer)

He Looked Beyond My Fault (Dotti Rambo)

 

His Name Will Shine ( Jan Groh, Tore W. Aas)

W

 

Wade In The Water (Traditional)

I

Wake Me, Shake Me (Traditional)

I Belong To The Band (Mavis Staples)

Walk In the Light (Traditional Arr. Egil Fossum)

I've Got a Feeling (African-American Traditional)

What a Day (Niels Schröder)

I Learned How to Lean (Rev. G. Mays)

Where Could I Go But to the Lord (James B. Coats)

 

 

Sicher finden auch Sie Stücke, die Ihnen gefallen.

 

Fragen Sie bitte rechtzeitig nach freien Terminen!